DAVID GAUSA presents SUTIL SENSATIONS

OCTOBER 1st 2015 (Spanish Edition)



The 1st show of the 10th season!


Welcome to the 2015/2016 season


Two hours with hot new music, and seeking
out the summer floorfillers and the
IBIZA MOST PLAYED TUNES 2015








Feder feat. Lyse 'Goodbye' (Stefan Dabruck Remix) - Atlantic
Paul Kalkbrenner 'Feed Your Head' (Kölsch Remix) - Columbia
Kaskade ft. Ilsey 'Disarm You' (Amtrac Remix) - Arkade/Warner
Disclosure ft. Sam Smith 'Omen' (Claptone Remix) - Island/PMR
Faithless 2.0 'Miss U Less See U More' (Purple Disco Machine Remix) - Columbia
Disciples 'Mastermind' - FFRR/Parlophone
Groove Armada 'Call Me' - Moda Black

IBIZA MOST PLAYED TUNES 2015 AND SUMMER FLOORFILLERS
Volkoder 'Sensation' (taken from ' Kitties Wanna Dance Vol. 5) - Suara
The Juan Maclean 'A Simple Design' (Purple Disco Machine Remix) - DFA/Defected
Dantiez Saunderson & KPD ft. LaRae Starr 'Place Called Home' - Defected
Michel Cleis & Klement Bonelli feat. Martin Wilson 'Marvinello' - Rebirth/EGO

Read more...
DAVID GAUSA presents SUTIL SENSATIONS
JULY 23rd 2015 (Spanish Edition)


With LEE VAN DOWSKI
special guest DJ


Dusky 'Skin Deep' - 17 Steps
The Count & KC Lights feat. Pepper Rose 'Down' (KC Lights Remix) - Cheap Thrills
CamelPhat 'Constellations' - Spinnin' Deep
Faithless 'Bombs' (Claptone Remix) (taken from Faithless 2.0) - Columbia
Groove Armada 'Love Sweet Sound'
(Kölsch Remix) (taken from 'Little Black Book') - Moda Black
Denney 'Low Frequency' - Hot Creations/MOS


Read more...
DAVID GAUSA wanted to make a gift to all his followers, to you!!, performing a new exclusive DJ mix of nearly 90 minutes, with some of his favourite deep, tech and underground progressive-house tracks of the moment named 'DAVID GAUSA - FIRST QUARTER 2015 DJ MIX'

Just after being released, the prestigious 1001 TRACKLISTS website, where only are shown the tracklists of the best DJs in the world, posted this new essential DJ set: David Gausa 1st Quarter 2015 DJ Mix - 1001 Tracklists

Listen/Download for free, and say what you think on the official DAVID GAUSA SOUNDCLOUD page:



You can also listen and leave your feedback on MIXCLOUD (tracklist included):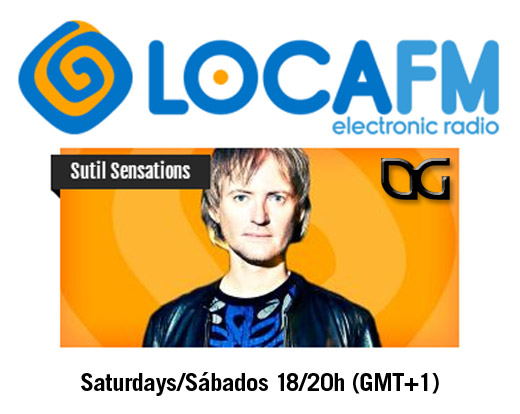 Back in November 2014,
DAVID GAUSA
announced that his radio show
SUTIL SENSATIONS
was joining the renewed Spanish Fun Radio.
From
January 1st, 2015
,
however, the station has once again become
LOCA FM
(
www.locafm.com
),
the station which gave birth to the show, with
SUTIL SENSATIONS
being one of the most important, respected and listened to shows in their schedule.
Now that its name and concept has been restored with glory,
LOCA FM
is the Spanish dance station which is different from the rest because of its music programming designed for clubbers, and specialised shows presented by professionals who know and live for electronic music.
DAVID GAUSA
presents
SUTIL SENSATIONS
, now on
LOCA FM - Electronic Radio
, every
Saturday from 18 to 20h [GMT+1]
(spoken in Spanish). Be sure to subscribe to the
Podcast
on
iTunes, Soundcloud,
Tune In
and by using the
RSS feed
on your favorite application.
Press play and enjoy!!
Next