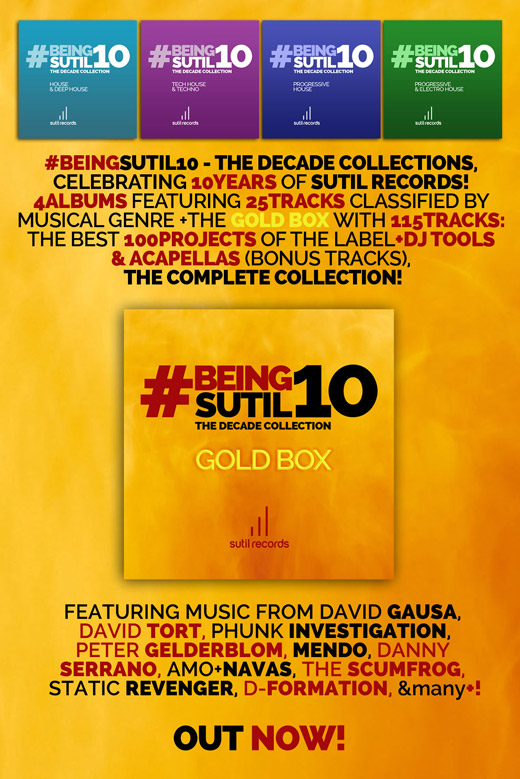 SUTIL RECORDS releases five essential commemorative collections to celebrate the label's 10th anniversary, #BEINGSUTIL10th - THE DECADE COLLECTIONS. To celebrate SUTIL's first decade, four albums classified by musical genre are released: House & Deep House, Tech House & Techno, Progressive House and Progressive & Electro House. Each collection consists of 25 tracks, and there's an exclusive GOLD BOX edition with 115 tracks, featuring the best 100 projects of the label, plus the best Accapellas and DJ Tools, all at very special prices!

You can get the GOLD BOX on iTunes; http://smarturl.it/SutilGold
Also available on Beatport: http://bit.ly/GldBp
And on all major download stores of the planet

Keep reading for the Soundcloud sampler audios, the music-videos on YouTube, and more info.


Read more...
DAVID GAUSA presents SUTIL SENSATIONS
NOVEMBER 20th 2014 (Spanish Edition)


Special #BeingSutil10 - The Decade Collections, the Sutil Records 10th Anniversary releases, and SLAM guest DJs
Sir Sly 'You Haunt Me' (My Digital Enemy Remix) - Cherrytree/Interscope
The Cube Guys 'Hey You!' - X
Mason 'Exceeder' (UMEK & Mike Vale Remix) - Armada
Siege 'Things You Do' - Zerothree
---

#BeingSutil10 - The Decade Collection - Sutil Records
House & Deep House Album - Minimix


Read more...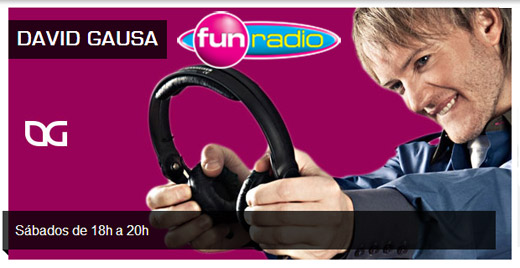 DAVID GAUSA
is pleased to announce that his radio show
SUTL SENSATIONS
will be broadcasted from now on the renewed
FUN RADIO
in Spain
(
www.funradio.es
)
, one of the most important worldwide international radio brands. Having been a broadcaster in the former
LOCA FM
for seven seasons,
after becoming
FUN RADIO
, now rejoins the Spanish dance station which differs from the rest by its musical programming with clubber attitude, with specialized shows presented by professionals who know and live by the electronic music.
DAVID GAUSA
presents
SUTIL SENSATIONS
, now in
FUN RADIO
. From November 8th every Saturday from 18 to 20h (Spoken in Spanish), and be sure to subscribe to the
Podcast
on
iTunes, Soundcloud,
Tune In
, and by using the
RSS feed
on your favorite application. Press play and enjoy!!
DAVID GAUSA presents SUTIL SENSATIONS
OCTOBER 23rd 2014 (Spanish Edition)


With BRIAN CID as a guest DJ



Disciples 'They Dont Know' - FFRR
Dirty South ft. Sam Martin 'Unbreakable' (SNBRN Remix) - Astralwerks
Nora En Pure 'True' (Mark Lower Remix) - Enormous Tunes
Julio Navas feat. Sitofonk 'Who's That Man' - Moustache
Deadmau5 'The Reward Is Cheese' (Fehrplay Remix) - Rising
Cirez D 'Ruby' - Mousseville


Read more...
Next