DAVID GAUSA presents SUTIL SENSATIONS

OCTOBER 6th 2016 (Spoken in Spanish)



The 1st show of the 11th season!


Welcome to the 2016/2017 season


Two hours with hot new music, and seeking
out the summer floorfillers and the
IBIZA MOST PLAYED TUNES 2016








Ninetoes & Fatboy Slim 'Finder (Hope)' - Spinnin Deep
Disciples 'Daylight' - FFRR
Mark Knight 'Yebisah' - Toolroom
Deadmau5 'Strobe' (Lane 8 Remix - taken from 'Mau5100') - Mau5trap
Elderbrook 'Closer' (Siege Remix) - Kobalt

Read more...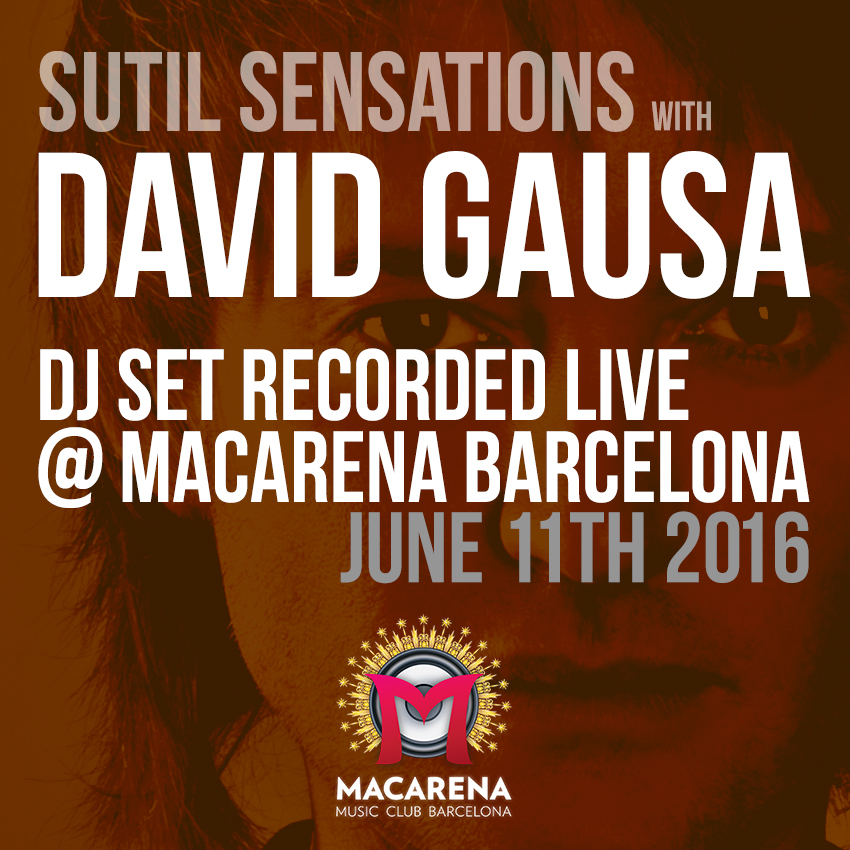 On June 11th, 2016, DAVID GAUSA performed a live DJ set on a SUTIL SENSATIONS night in the legendary MACARENA MUSIC CLUB BARCELONA. Now he wants to make a gift to all his followers..., and give it to you!
More than 3h and a half of #HotBeats ;-)

Press play & enjoy!



Listen to it and say what you think on the official DAVID GAUSA's MIXCLOUD page, and if you fancy you can download it below!:



You can also listen to it and leave your feedback on the official DAVID GAUSA's SOUNDCLOUD page: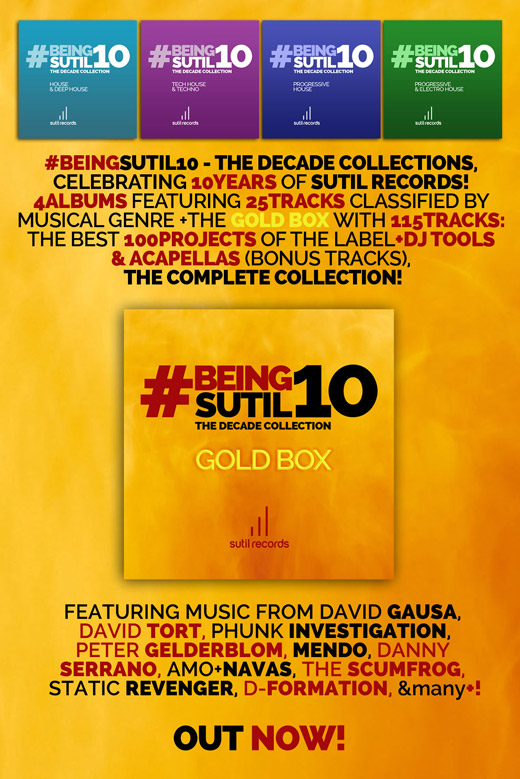 SUTIL RECORDS releases five essential commemorative collections to celebrate the label's 10th anniversary, #BEINGSUTIL10th - THE DECADE COLLECTIONS. To celebrate SUTIL's first decade, four albums classified by musical genre are released: House & Deep House, Tech House & Techno, Progressive House and Progressive & Electro House. Each collection consists of 25 tracks, and there's an exclusive GOLD BOX edition with 115 tracks, featuring the best 100 projects of the label, plus the best Accapellas and DJ Tools, all at very special prices!

You can get the GOLD BOX on iTunes; http://smarturl.it/SutilGold
Also available on Beatport: http://bit.ly/GldBp
And on all major download stores of the planet

Keep reading for the Soundcloud sampler audios, the music-videos on YouTube, and more info.


Read more...
DAVID GAUSA presents SUTIL SENSATIONS
JUNE 15th 2017 (Spanish Edition)


L'Tric 'The Way You Are' (Tom Staar Remix) - Neon
Tom Staar 'Drift' - Size
Oliver Heldens 'Ibiza 77 (Can You Feel It)' - Heldeep
Duke Dumont & Gorgon City 'Real Life' - Virgin EMI/Astralwerks
Rui 'Feel Alright' - Wall

Read more...