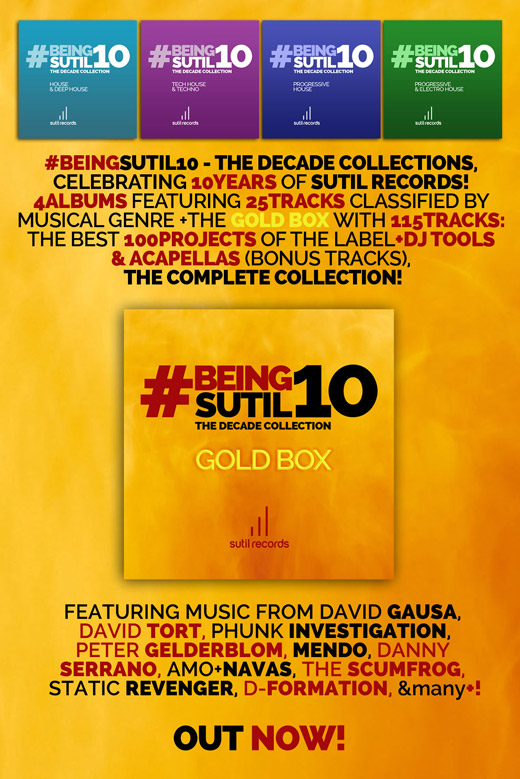 SUTIL RECORDS releases five essential commemorative collections to celebrate the label's 10th anniversary, #BEINGSUTIL10th - THE DECADE COLLECTIONS. To celebrate SUTIL's first decade, four albums classified by musical genre are released: House & Deep House, Tech House & Techno, Progressive House and Progressive & Electro House. Each collection consists of 25 tracks, and there's an exclusive GOLD BOX edition with 115 tracks, featuring the best 100 projects of the label, plus the best Accapellas and DJ Tools, all at very special prices!

You can get the GOLD BOX on iTunes; http://smarturl.it/SutilGold
Also available on Beatport: http://bit.ly/GldBp
And on all major download stores of the planet

Keep reading for the Soundcloud sampler audios, the music-videos on YouTube, and more info.


Read more...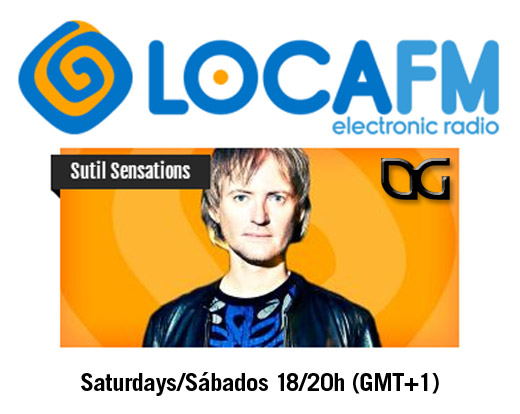 Back in November 2014,
DAVID GAUSA
announced that his radio show
SUTIL SENSATIONS
was joining the renewed Spanish Fun Radio.
From
January 1st, 2015
,
however, the station has once again become
LOCA FM
(
www.locafm.com
),
the station which gave birth to the show, with
SUTIL SENSATIONS
being one of the most important, respected and listened to shows in their schedule.
Now that its name and concept has been restored with glory,
LOCA FM
is the Spanish dance station which is different from the rest because of its music programming designed for clubbers, and specialised shows presented by professionals who know and live for electronic music.
DAVID GAUSA
presents
SUTIL SENSATIONS
, now on
LOCA FM - Electronic Radio
, every
Saturday from 18 to 20h [GMT+1]
(spoken in Spanish). Be sure to subscribe to the
Podcast
on
iTunes, Soundcloud,
Tune In
and by using the
RSS feed
on your favorite application.
Press play and enjoy!!
DAVID GAUSA presents SUTIL SENSATIONS
NOVEMBER 17th 2016 (Spanish Edition)


Cassius ft. Cat Power & Pharrell Williams 'Go Up' (Butch Remix) - Interscope/Polydor

Dennis Ferrer feat. Sagine 'Bubbletop' (DFs Bubble Wrapped Mix) -
Defected

Rutger van Gelder 'On The Sly' -
Hysteria

Watermat 'Fade' -
Spinnin Deep

NIMMO 'Dancing Makes Us Brave' (CamelPhat Remix) -
Columbia

Read more...
DAVID GAUSA presents SUTIL SENSATIONS
NOVEMBER 3rd 2016 (Spanish Edition)


Kölsch 'Grey' (taken from 'Speicher 93' EP) - Kompakt

Emeli Sandé 'Hurts' (offaiah Remix) -
Virgin

My Digital Enemy 'Inside Of Me' -
Insomniac

Ultra Naté vs Roland Clark 'The First Time Free'

(Claptone Remix - taken from 'The Masquerade' Mixed by Claptone) -
Defected

Chris Avantgarde 'All Of The Lights' (Vocal Mix) -
Insomniac

Read more...