DAVID GAUSA presents SUTIL SENSATIONS
JANUARY 26th 2017 (Spanish Edition)


Pryda 'Lillo' - Pryda
Bastille 'Blame' (Claptone Mix) - Virgin
Jax Jones 'You Don't Know Me' (Hum Dub) - Polydor
Luca Debonaire 'Walking on Clouds' (Croatia Squad Remix) - Enormous Tunes
Leandro Da Silva & L.A. Ros 'Bring The Funk Back' (The Cube Guys Remix) - Cube

Read more...
DAVID GAUSA presents SUTIL SENSATIONS
JANUARY 12th 2017 (Spanish Edition)


Basement Jaxx 'Jump N Shout' (Erik Hagleton Remix) - Toolroom
Lika Morgan 'Feel The Same' (EDX Dubai Skyline Remix) - No Definition
Icarus 'Hiding' - Anjunadeep
Antonio Giacca 'Soul Motion' - Enormous Tunes
Kryder & Daddy's Groove 'Street Life' - Cartel

Read more...
DAVID GAUSA presents SUTIL SENSATIONS
DECEMBER 1st 2016 (Spanish Edition)


Two Door Cinema Club 'Bad Decisions' (Purple Disco Machine Remix) - Parlophone

Josep 'Love Spreadin' -
Anjunabeats

Alex Kenji 'Yeah Yeah Yeah' -
Enormous Tunes

Jason Herd & Andrew Hickey 'A New Day' (taken from
'
From The Vaults
'
EP) -
Weirdo

Metroplane 'Bahp' -
Weapons
Read more...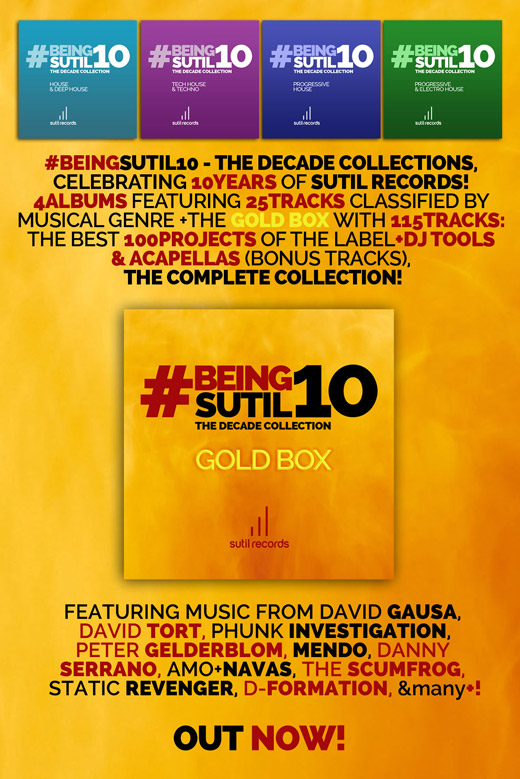 SUTIL RECORDS releases five essential commemorative collections to celebrate the label's 10th anniversary, #BEINGSUTIL10th - THE DECADE COLLECTIONS. To celebrate SUTIL's first decade, four albums classified by musical genre are released: House & Deep House, Tech House & Techno, Progressive House and Progressive & Electro House. Each collection consists of 25 tracks, and there's an exclusive GOLD BOX edition with 115 tracks, featuring the best 100 projects of the label, plus the best Accapellas and DJ Tools, all at very special prices!

You can get the GOLD BOX on iTunes; http://smarturl.it/SutilGold
Also available on Beatport: http://bit.ly/GldBp
And on all major download stores of the planet

Keep reading for the Soundcloud sampler audios, the music-videos on YouTube, and more info.


Read more...