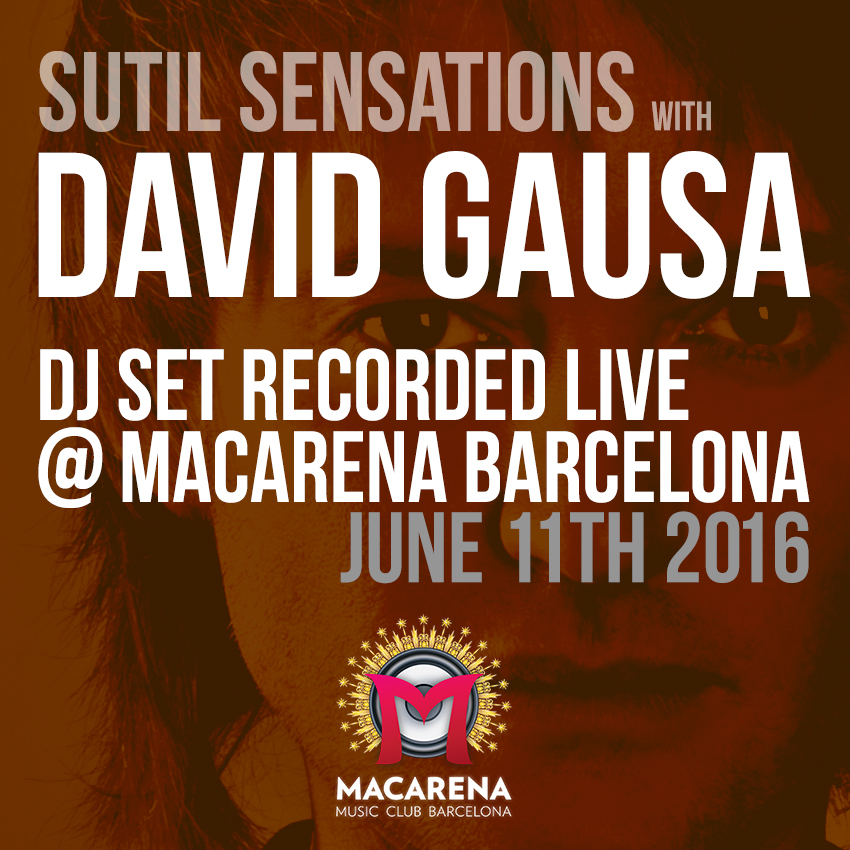 On June 11th, 2016, DAVID GAUSA performed a live DJ set on a SUTIL SENSATIONS night in the legendary MACARENA MUSIC CLUB BARCELONA. Now he wants to make a gift to all his followers..., and give it to you!
More than 3h and a half of #HotBeats ;-)

Press play & enjoy!



Listen to it and say what you think on the official DAVID GAUSA's MIXCLOUD page, and if you fancy you can download it below!:



You can also listen to it and leave your feedback on the official DAVID GAUSA's SOUNDCLOUD page: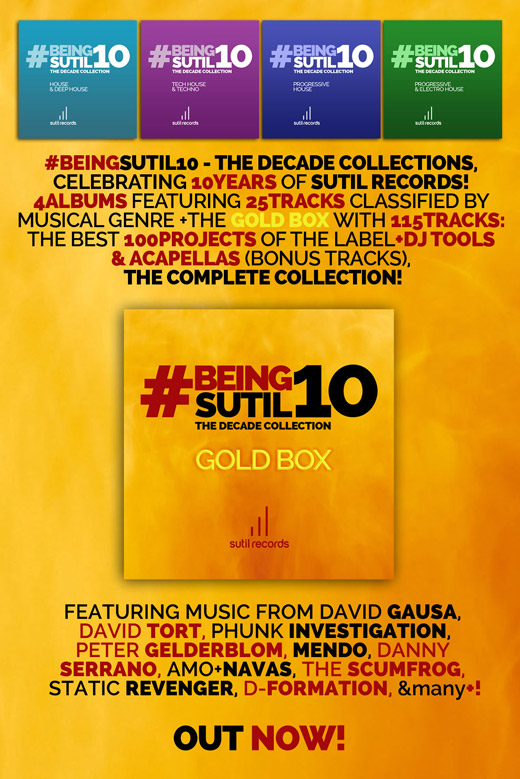 SUTIL RECORDS releases five essential commemorative collections to celebrate the label's 10th anniversary, #BEINGSUTIL10th - THE DECADE COLLECTIONS. To celebrate SUTIL's first decade, four albums classified by musical genre are released: House & Deep House, Tech House & Techno, Progressive House and Progressive & Electro House. Each collection consists of 25 tracks, and there's an exclusive GOLD BOX edition with 115 tracks, featuring the best 100 projects of the label, plus the best Accapellas and DJ Tools, all at very special prices!

You can get the GOLD BOX on iTunes; http://smarturl.it/SutilGold
Also available on Beatport: http://bit.ly/GldBp
And on all major download stores of the planet

Keep reading for the Soundcloud sampler audios, the music-videos on YouTube, and more info.


Read more...
DAVID GAUSA presents SUTIL SENSATIONS
JULY 20th 2017 (Spanish Edition)


Last episode of the 11th season! / ¡Último capítulo 11ª temporada!




CamelPhat & Elderbrook 'Cola' - Defected
The Golden Boy 'Magalenha' - TMTR
Denney & Mekon feat. Roxanne Shante 'What's Going On?' - FFRR
Cassius 'Ibifornia' (Boys Noize Remix) - Ed Banger
Ninetoes 'Bonita' - Moon Harbour

Read more...
DAVID GAUSA presents SUTIL SENSATIONS
DECEMBER 22nd 2016 (Spanish Edition)


#BESTOF2016 - Our personal selection...
#LOMEJORDE2016 - Nuestra selección personal...








SOME MAINSTREAM TUNES OF THE YEAR (1) /
ALGUNOS TEMAS MAINSTREAM DEL AÑO (1)
Kungs Vs Cookin' On 3 Burners 'This Girl' - Universal
offaiah 'Trouble' - Positiva
Michael Calfan 'Brothers' - Spinnin
Gorgon City ft. Vaults 'All Four Walls' - Virgin EMI
CID 'No!' - Musical Freedom
Croatia Squad & Lika Morgan 'Make Your Move' - Enormous Tunes

MÁS IMPRESCINDIBLES DE 2016 (1) / MORE 2016 WINNERS (1)
Disciples & David Guetta 'No Worries' - FFRR/Parlophone
Nora En Pure 'Morning Dew' - Enormous Tunes
Antonio Giacca & Fort Arkansas 'What U Know' - Enormous Tunes
Ninetoes & Fatboy Slim 'Finder (Hope)' - Spinnin Deep
Alaia & Gallo ft. Kevin Haden 'Who Is He?' - Soul Heaven Records
Dusky ft. Solomon Grey 'Long Wait' (taken from 'Outer' artist album) - 17 Steps
Cassius ft. Cat Power & Pharrell Williams 'Go Up' (Butch Remix) - Interscope/Polydor

ONE OF THE WINNERS IN IBIZA 2016
Dele Sosimi Afrobeat Orchestra 'Too Much Information' (Laolu Remix) - Innervisions


Read more...